Now that you know what to look for when choosing a network, here are my picks for the best affiliate networks.
1. Impact.
Impact is a full-fledged partnership relationship management (PRM) software that connects top brands with publishers.
Affiliates can join the network and apply to join programs from thousands of top brands like Uber, Airbnb, Adidas, Allstate, and more.
Brands looking to create their own affiliate program can use Impact and get access to the very best partnership tools.
Impact helps brands and advertisers manage:
Affiliate partnerships
Influencer marketing partnerships
Business development deals
Analytics and attribution
Custom contracts
Optimizing channel partnerships can be challenging, and Impact's technology streamlines partner programs all under one roof.
If you're a brand looking to create a partnership program, Impact is the best platform to use.Get started with Impact
2. Shareasale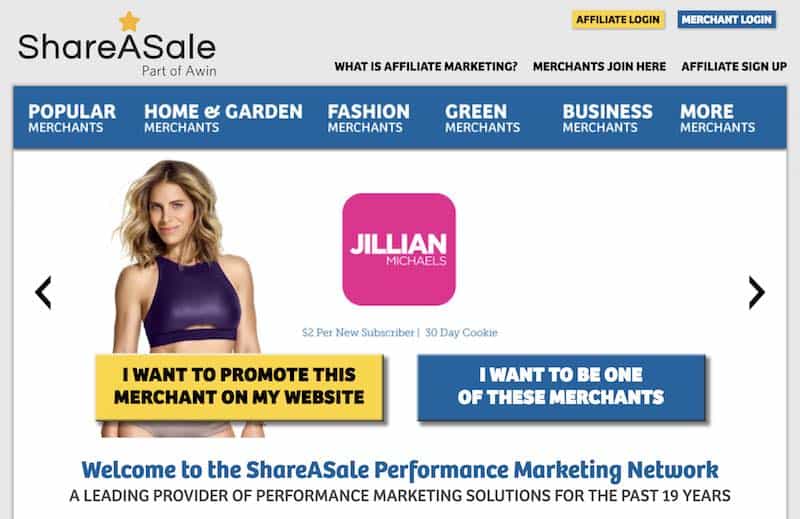 Shareasale is a massive affiliate network with over 3,900 merchants and 1 million+ affiliates. They've been in business for 19 years and are a leader in the industry. Some of their top verticals to promote include fashion, home and garden, food and drink, and B2B. But there are plenty more.
Additionally, they provide great features, including affiliate marketing classes, training webinars, merchant recommendations, and marketing tools to help you grow your revenue.
Their platform is also reliable on the technology front. Specifically, the Shareasale platform provides easy access to affiliate links, reporting tools, and pride themselves on transparency, speed, efficiency, and accuracy.
If you're starting and want to get your toes wet in affiliate marketing, I recommend you join Shareasale as an affiliate first.
And if you're a merchant looking for affiliates to promote your products, you can sign up as a merchant.
3. CJ by Conversant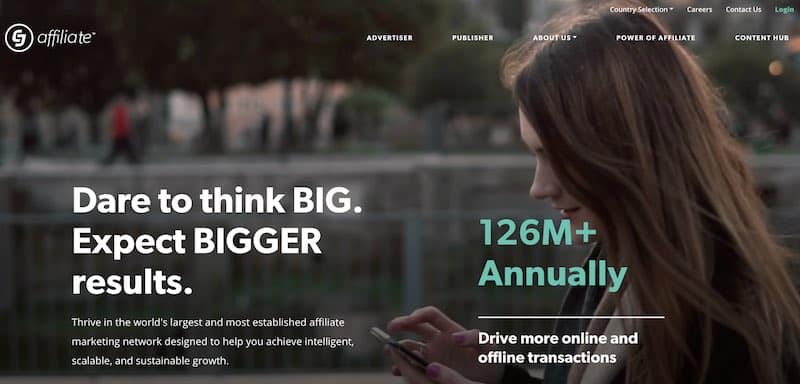 CJ by Conversant (formerly Commission Junction) is an affiliate network that has been in the industry for 20 years. They process an incredible $15 billion in annual sales through their platform, with $1.8 billion paid out annually to their affiliates.
If you're looking to partner with some of the world's biggest brands, becoming a CJ affiliate is a great choice. Brands like Overstock, Priceline, GoPro, Lowes, and Office Depot are just some of the merchants you can partner with on CJ.
On the publisher's side, they partner with huge brands like CNN, Time, Digg, and Buzzfeed. With this stiff competition, one drawback is that it can be difficult for new affiliates to get approved to work with larger merchants. You'll have to get creative with your email outreach to work with them.
However, with their free and easy set-up, excellent real-time reporting, and reliable monthly payments, CJ is a great platform to join.
If you are a seasoned affiliate and want to work with some of the world's largest brands, join CJ by Conversant (formerly Commission Junction).
4. Rakuten LinkShare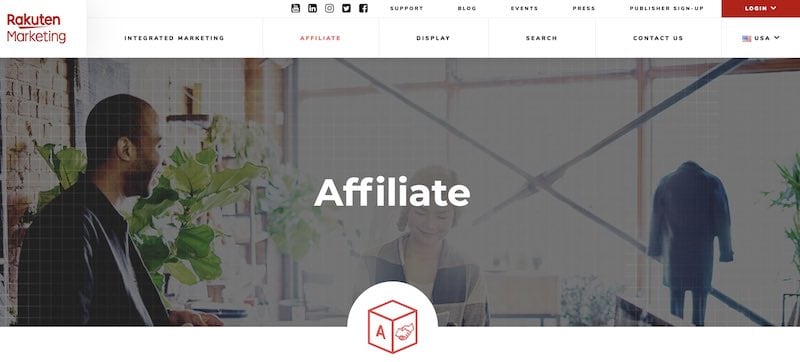 Rakuten, formerly known as LinkShare, is an affiliate network that has been in business since 1996. Although they've been in business longer than most, they aren't as large as CJ by Conversant.
Nevertheless, they have around 1,000 merchants to choose from, including a lot of well-known brands like New Balance, Pac Sun, Ray-Ban, and Sephora.
What makes them unique? First, Rakuten has a very intuitive user interface, advanced deep linking tools, and the ability to creating rotating banners when promoting your merchants. Set up is a breeze. Also, they have excellent transaction reporting and tutorial videos to help you get started and maximize revenue.
However, there are a few drawbacks. For starters, they don't have as many merchants.
This drawback can limit your ability to sell from a wide range of different brands, and you may have to supplement your income by joining another network. Second, they have irregular payment schedules, so you might not earn commissions at the same time every month. These aren't deal-breakers, but worth noting.
Ultimately, if you're an affiliate that has already joined larger platforms and wants to expand your reach, look into joining the Rakuten network.
5. Lemonads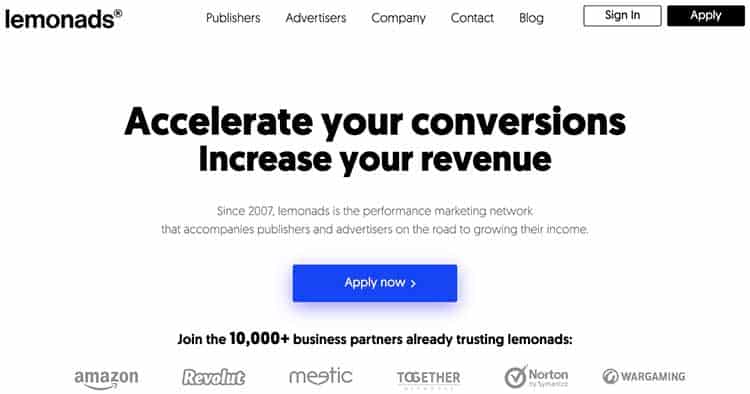 Lemonads is a performance marketing network with over 10,000 businesses that affiliates can promote.
When affiliates sign up and join their platform, they get access to a lot of tools:
Exclusive CPA offers from trusted brands.
Smart affiliate link tools with reports so you can optimize your campaigns in real-time.
Fast payments made via wire, PayPal, Paxum, and ePayments.
Customer support through various channels.
85% of publishers increase their revenue within the first 3 months of using Lemonads.
If you're an advertiser looking to join their platform, you get some excellent tools too:
Pay per performance models that you can choose: CPA, CPS, CPL, CPI.
Monitored traffic from verified sources.
AI fraud detection.
Real-time monitoring of results.
Some other notable mentions are Awin, Avangate, Viglink, Pepperjam, and Clickbank. If you're in the B2C consumer product niche, Clickbank provides a marketplace to promote products from a wide range of industries like food, health, fitness, nutrition, home and garden, and more.